Medical grade sheepskins
For the baby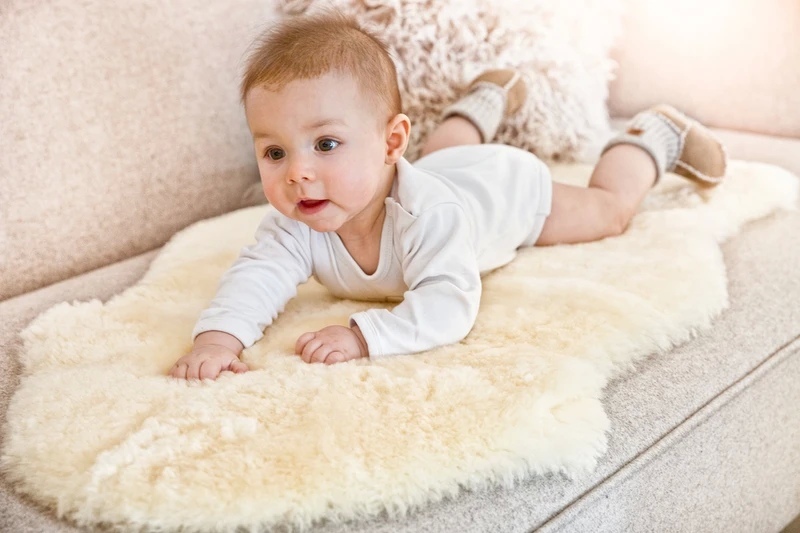 Our medicinal skins are widely used in the cot, playpen or pram, because the skins naturally have many advantages for babies:
Evenly distributes weight due to high wool density: this

prevents restless sleep

.
Good regulation of body temperature:

keeping your baby

warm

without overheating
Super soft: it gives a warm and

secure feeling

.

Washable at 30 degrees

with a wool detergent
100% natural tanning:

no chemicals

have been used, so it is safe for your baby.
For prolonged sitting or lying
They are also often used by people who lie or sit down a lot (e.g. for medical reasons). Also people who spend a lot of time on an office chair because of their work often use a medical sheepskin for comfort and warmth and to prevent back problems.
Advantages:
Evenly distributes weight: Helps

prevent back problems and bedsores

(decubitus).
Heat regulation: Gives

warmth in case of muscle problems

/ rheumatism

Reduces excess moisture

: preventing bedsores, skin irritations including rashes, itchy skin and eczema.
Because of all the above properties, people experience

fewer sleeping problems
Because each sheepskin is unique, all our products are photographed individually, so you can be sure that you will get the exact sheepskin you order.
Is your choice not listed or do you want more information about, for example, wholesale prices? Joop likes to think along with you! +316 542 44 841 or via the contactform
-19%

-19%

-13%

-13%

-6%

-13%

-13%
Shipping
​

NL: FREE above €100,-
[WEBWINKELKEURWIDGET layout=new_default theme=light color=#80B352 show=yes view=slider amount=6 width=auto height=250px interval=8000 language=1 inline=0]
Why Heartline?